Cyberphobia: Trust, Security, Russia and the Internet
Partner: Prague Centre for Transatlantic Relations
Event date: Mar 09, 2016
Deadline for registering: Mar 08, 2016
Venue: Jungmannova 17, Prague 1, Czech Republic
Category: Lecture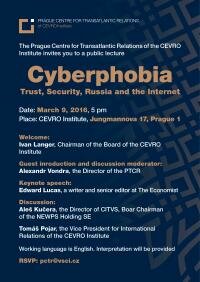 The Prague Centre for Transatlantic Relations of the CEVRO Institute (PCTR) invites you to a public lecture held by Edward Lucas, a writer, senior editor at The Economist, the vice-president at the Centre for European Policy Analysis (CEPA) and the author of "Cyberfobia" (non-fiction book). The discussion will host Aleš Kučera, the Director of Centre for IT in Public Administration of the CEVRO Institute and the Boar Chairman of the NEWPS Holding SE and Tomas Pojar, the Vice President for International Relations of the CEVRO Institute and the former Ambassador of the Czech Republic to Israel.
The lecture will take place on March 9, 2016 at 17:00 in the atrium of the CEVRO Institute (Jungmannova 17, Prague 1). The event entitled "Cyberphobia: Trust, Security, Russia and the Internet" will be opened by a former Minister of Interior and a current Chairman of the Board of the CEVRO Institute Ivan Langer. The Guests will be introduced and discussion will be moderated by the Director of the PCTR and former Defence Minister and Foreign Minister Alexandr Vondra.
The lecture will be in English. Interpretation will be provided. Due to organizational matters, we kindly ask you to confirm your participation.
The main partner of the lecture is Hanns-Seidel-Stiftung (HSS). The media partners of the event are the Czech-Israeli Chamber of Commerce and the Civic Institute.
... More information
Keywords: Cyber Security, Russia